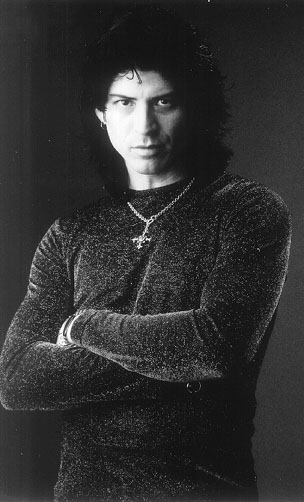 Antonio Nadir began his musical career in Hollywood as a percussionist under the pseudonym "Nadir D'Priest." He moved to center stage when he became the frontman for the L.A.-based rock band, London. London's band members included some of rock's most notable musicians, a few who later moved on to become members of Motley Crue, Guns 'n Roses, and W.A.S.P., among others.
London signed to German-based Noise Records/BMG's U.S. entity, and at the recommendation of the Noise Records' then-U.S. president, Bruce Kirkland, the band's name was changed to D'Priest. Their debut album on Noise, Playa Del Rock, with all the music and lyrics written by Nadir, was a hit in Europe, and did extremely well in the U.S. Nadir produced their two MTV music videos, and toured the U.S. and Europe.
In 1993, D'Priest's former manager, Toni Young, asked Nadir to join her new company, Second Vision New Media, which had been contracted by the Rolling Stones to produce a music CD-ROM. His experience performing, touring, record-producing, songwriting, producing and directing videos gave him the unique ability to see this medium from the artist's and record producer's point of view. He was subsequently appointed Project Director on what became the critically acclaimed ground-breaking Rolling Stones' Voodoo Lounge CD-ROM.
In 1995, upon completion of the Rolling Stones' project, he returned to his true métier - songwriting and performing. Nadir was born in the Baja Peninsula of Mexico, and as a "native son" raised in the Los Angeles area from the time he was 6 years old, he felt it was time to get back to his Latin roots. He combined his Latin heritage with his unique style of American rock 'n roll; writing, arranging, producing, recording, and playing drums on a repertoire of original songs in his native tongue - Spanish - making an exciting new contribution contemporary pop/rock music - en Espanol. This is the essence of his debut solo release - Tatuaje.
Download samples from
Tatuaje
at the
Midnight Music Group
Site
(Thanks to them for the images and the recent Bio Update!)